South Carolina
 is the 40th most extensive and 23rd most populous U.S. state. Its GDP as of 2013 was $183.6 billion, with an annual growth rate of 3.13%.[6] South Carolina is composed of 46 counties. The capital is Columbia with a 2016 population of 134,309; while its largest city is Charleston with a 2016 population of 134,385. The Greenville-Anderson-Mauldin metropolitan area is the largest in the state, with a 2016 population estimate of 884,975.
State Department of Agriculture
Agriculture has been the base of South Carolina's economy since the settlement of the American colonies. The native Americans grew beans, pumpkins, onions, melons, and maize, and British colonists brought indigo, cotton, tobacco, ginger root, cattle and hogs.South Carolina's top ten commodities are: broilers, turkeys, greenhouse nurseries, cotton, corn, cattle, soybeans, peanuts, eggs, and wheat. The state has about 25,000 farms, which encompass 4.9 million acres. Forests cover two-thirds of the land in the state. South Carolina agriculture is worth $3 billion annually, between crops and livestock.
www.agriculture.sc.gov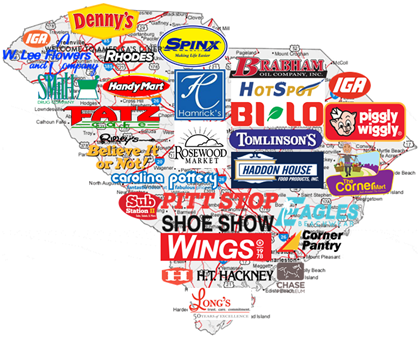 The Certified South Carolina program is a cooperative effort among producers, processors, wholesalers, retailers and the South Carolina Department of Agriculture (SCDA) to brand and promote South Carolina products. Certified SC Product identifies all manufactured and value-added products made in South Carolina.
http://www.certifiedscgrown.com/
Fresh From the Menu: Farm to table comes to life with the Fresh on the Menu program. Participating restaurants agree to prepare menus that dedicate at least 25% of their ingredients to Certified South Carolina Grown products that are in season. That means when you dine out, you eat fresher, healthier food that just tastes better.
www.freshonthemenu.com
Other Related Programs
SCIWAY: All of the products and services on this page have a South Carolina emblem or are closely associated with our state. Products are sold by South Carolina companies, and all can be ordered online or by contacting the company directly. Whether you're looking for a special gift or a treat for yourself, we think you're going to like what you find here!
www.sciway.net