Pennsylvania is the 33rd-largest, the 6th-most populous, and the 9th-most densely populated of the 50 United States. The state's five most populous cities are Philadelphia (1,560,297), Pittsburgh (305,801), Allentown (118,577), Erie (100,671), and Reading (89,893). The state capital, and its ninth-largest city, is Harrisburg. Pennsylvania's 2013 total gross state product (GSP) of $644 billion ranks the state 6th in the nation.[93] If Pennsylvania were an independent country, its economy would rank as the 18th-largest in the world. On a per-capita basis, Pennsylvania's per-capita GSP of $47,274 (in chained 2009 dollars) ranks 26th among the 50 states.
Wikipedia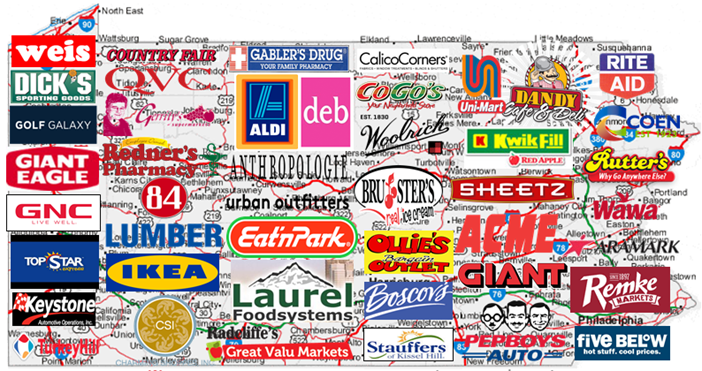 State Department of Agriculture
The Pennsylvania Department of Agriculture is committed to a sustainable and safe supply of food and agricultural products in the commonwealth – from the farm to the table – and to being good stewards of the land and Pennsylvania's natural resources. The department promotes the viability of farms, protects consumers, and safeguards the health of people, plants, animals and the environment.
www.agriculture.pa.gov
PA Preferred
 is a state-supported agricultural marketing program. The State Department of Agriculture launched the PA Preferred program to identify and promote food and agricultural products grown, produced or processed in Pennsylvania. Buying local is not just a trend or fad. When a Pennsylvania resident purchases a product grown or made in Pennsylvania, they are directly supporting the state's economy. By purchasing local products, you are also encouraging and allowing Pennsylvania business to do what they do best- to continue growing and creating great products. When it comes to produce and other food items, you are guaranteed to have fresher, better tasting products.
www.papreferred.com
Other Related Programs
Perfectly PA: In August 2004, the newly constructed Harrisburg International Airport opened for business.  One of the new additions was a very unique gift shop featuring items made in Pennsylvania or items from Pennsylvania-based companies. Perfectly Pennsylvania is owned and operated by Karen Deklinski and radiates energy and enthusiasm for it's home state.
www.perfectlypa.com