Ohio
 is the 34th largest by area, the 7th most populous, and the 10th most densely populated of the 50 United States. The state's capital and largest city is Columbus. The other main cities include Cleveland, Cincinnati, Akron, Toledo, Dayton, Canton, Youngstown, Parma and Lorain. In 2010, Ohio was ranked No. 2 in the country for best business climate by Site Selection magazine, based on a business-activity database. The state has also won three consecutive Governor's Cup awards from the magazine, based on business growth and developments. As of 2010, Ohio's gross domestic product (GDP) was $478 billion. This ranks Ohio's economy as the seventh-largest of all fifty states and the District of Columbia.
Wikipedia
State Department of Agriculture
The mission of the Ohio Department of Agriculture is to protect Ohio citizens by ensuring the safety of the state's food supply, to maintain the health of Ohio's animals and plant life, and to create economic opportunities for Ohio's farmers, food processors and agribusinesses.
www.agri.ohio.gov
Ohio Proud: When you see the Ohio Proud logo, you know you are getting Ohio-made and grown products. From fresh meats, fruits and vegetables, to dairy products and snack foods, you can find Ohio Proud products in your favorite grocery store and at your local Farm Market. Ohio Proud is a quick and reliable way for you to identify Ohio-made and grown goods. Agriculture is Ohio's number one industry, contributing more than $105 billion to the state's economy. Ohio is home to more than 1,000 food processing companies and produces more than 200 commercial crops. Of these, the Buckeye State is a leading producer in more than 35 product sectors.
www.ohioproud.org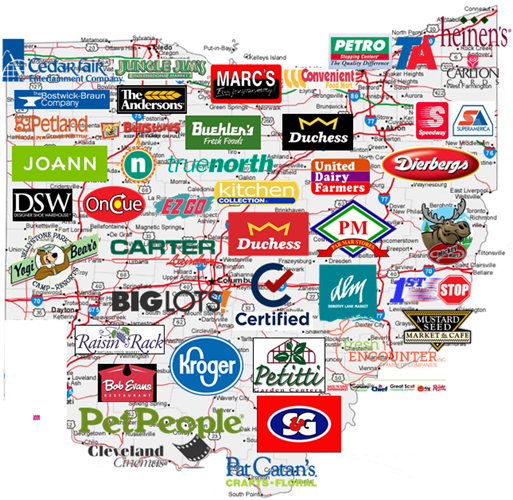 Other Related Programs
Celebrate Local is the retail home to more than 300 Ohio artisans, small businesses and farmers. With our flagship location (opened in 2011) at Easton Town Center in Columbus, Ohio and our second location, Liberty Center in Cincinnati, our stores invite visitors from around the country to "Shop the Best of Ohio" and support LOCAL! Additionally, our online marketplace brings hundreds of Ohio-made products to customers all across the nation.
www.celebratelocalohio.com