North Dakota is the 19th most extensive, but the 4th least populous, and the 4th most sparsely populated of the 50 U.S. states. The state capital is Bismarck, and the largest city is Fargo. Agriculture is North Dakota's largest industry, although petroleum, food processing, and technology are also major industries.  It is the fastest-growing state in U.S. by GDP. Its growth rate is about 8.3%. The economy of North Dakota had a gross domestic product of $36.8 billion in 2013. The per capita income in 2013 was $50,899, ranked 16th in the nation.
Wikipedia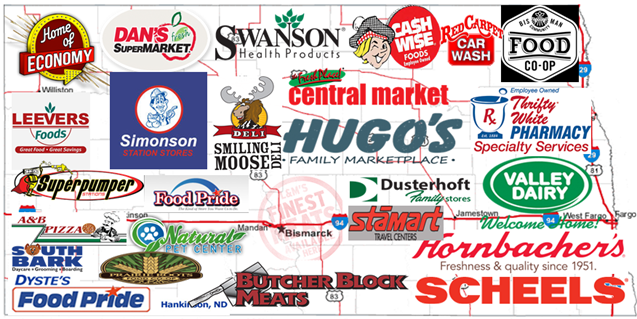 State Department of Agriculture
We are here to provide the services and leadership necessary to make North Dakota the trusted provider of the highest quality food in the world with prosperous farms and ranches, thriving rural communities and responsible use of resources.
www.nd.gov/ndda/
Pride of Dakota:
 Since 1985, Pride of Dakota has promoted and enhanced the marketing of North Dakota businesses, products and services. Pride of Dakota offers business development resources and marketing opportunities to help local business owners start or expand their business.
www.prideofdakota.nd.gov/
Other Related Programs
ND Gifts:
 We are a "gift services company" specializing in custom gift giving for individuals and businesses.  We offer jewelry, pottery, home décor and seasonal items.  We are known to have one of the largest selections of "made in North Dakota" products.  Our Pride of Dakota products include handmade chocolates, soup, dip and bread mixes, bison sausage, jellies, jams and syrups, including Chokecherry and Juneberry, ND specialties.
www.ndgifts.com