New York was one of the original thirteen colonies that formed the United States. With an estimated 19.8 million residents in 2015,[9] it is the fourth most populous state in the United States.  The state's largest city, New York City, makes up over 40% of the state's population. Two-thirds of the state's population lives in the New York metropolitan area, and nearly 40% lives on Long Island. The next four most populous cities in the state are Buffalo, Rochester, Yonkers, and Syracuse, while the state capital is Albany. New York's gross state product in 2015 was $1.44 trillion. If New York State were an independent nation, it would rank as the 12th or 13th largest economy in the world.
Wikipedia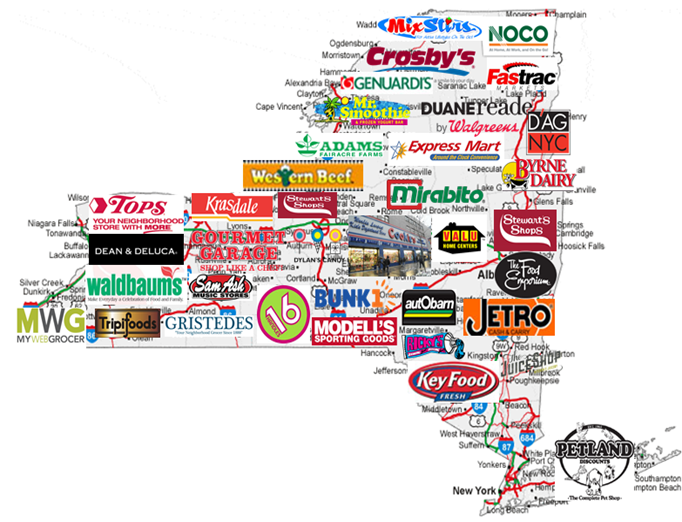 State Department of Agriculture
The Department, through its various divisions and programs, promotes New York agriculture and its high-quality and diverse products, fosters agricultural environmental stewardship, and safeguards the State's food supply, land and livestock to ensure the viability and growth of New York's agriculture industries. About 23% of New York State's land area, or 7 million acres, is farmland. There are nearly 36,000 family farms producing some of the world's best food. Agriculture is a major driver of the New York State economy and the State ranks high among the major agricultural states in the nation, ranking in the Top 10 in 30 commodities. It is the second largest producer of apples and maple syrup, second in cabbage and snap beans, third in grapes, grape juice and wine, and fourth in pears and dairy, which is the largest segment of the agricultural sector.
www.agriculture.ny.gov
New York Grown and Certified:
 New York State Grown & Certified is the first statewide, multi-faceted food certification program designed to strengthen consumer confidence in New York products, address food product labeling, and assist New York farmers so they can take advantage of the growing market demand for foods locally grown and produced to a higher standard.
www.certified.ny.gov/
Other Related Programs
Made In NYC's
 mission is to support a vibrant manufacturing sector in New York City. Local manufacturing encourages entrepreneurship and innovation, creates employment opportunities for New York's extraordinarily diverse workforce and gives the city much of its character and soul.
www.madeinnyc.org
Made in New York:
 The Made in NY site is a call to buy in New York, by creating a better business environment where we can strengthen our economy and create new meaningful jobs.
www.madeinny.org/