By 2015, Kansas was one of the most productive agricultural states, producing high yields of wheat, corn, sorghum, and soybeans. Kansas, which has an area of 82,278 square miles (213,100 km2) is the 15th-largest state by area and is the 34th most-populous of the 50 states with a population of 2,911,641. The Bureau of Economic Analysis estimates that Kansas' total GDP in 2014 was $140,964 billion. In 2015, the job growth rate in was .8 percent, among the lowest rate in America with only "10,900 total nonfarm jobs" added that year.
Wikipedia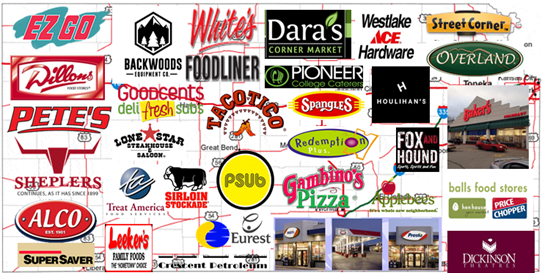 State Department of Agriculture
The Kansas Department of Agriculture (KDA) is the nation's first state department of agriculture. The agency is devoted to the total support of agriculture in Kansas. The department works for the entire Kansas agriculture sector, including farmers, ranchers, food establishments and agribusinesses. The department is dedicated to providing support and assistance to make Kansas businesses successful and encouraging more farms, ranches and other agriculture business to expand in or relocate to Kansas.
http://agriculture.ks.gov/
From The Land of Kansas:
 The From the Land of Kansas trademark program has the goal of helping businesses that grow, produce, process or manufacture products in Kansas. In addition, the program works with and supports restaurants using Kansas products and retailers selling Kansas products and ingredients. This trademark program helps members promote their Kansas products and provides members with a variety of business development tips and opportunities including marketing assistance. In addition, the state trademark provides a consistent way to identify Kansas agriculture-based products.
www.fromthelandofkansas.com
Other Related Programs
Made in KC
 opened in May of 2015 to provide local Kansas City artists and makers a platform to reach customers in Overland Park. As many of the city's artists, designers, and makers are centralized around midtown and Kansas City's budding Crossroads district, Made in KC aimed to provide exposure and access to the greater metro area. The Overland Park store at Prairiefire became a quick success and led to a second location in the Village at Briarcliff in North KC in October 2015.
www.madeinkc.co
Kansas Originals:
 Kansas Originals Market & Gallery is located at the junction of Interstate 70 exit 206 and K-232 highways north of Wilson in central Kansas on the Post Rock Scenic Byway. This showcase for the exceptional work of Kansas artists, craftsmen and food producers is visited by thousands of people each year. Travelers from more than 100 foreign countries on six continents have become acquainted with the art, crafts, and food of Kansans. These visitors express an appreciation for the high quality and originality of the work.
https://www.kansasoriginals.com/