Alaska is the 3rd least populous and the most sparsely populated of the 50 United States; nevertheless, it is by far the most populous territory located mostly north of the 60th parallel in North America, its population (the total estimated at 738,432 by the U.S. Census Bureau in 2015. Approximately half of Alaska's residents live within the Anchorage metropolitan area. Alaska's economy is dominated by the fishing, natural gas, and oil industries, resources which it has in abundance. Military bases and tourism are also a significant part of the economy.
The 2007 gross state product was $44.9 billion, 45th in the nation. Its per capita personal income for 2007 was $40,042, ranking 15th in the nation. According to a 2013 study by Phoenix Marketing International, Alaska had the fifth-largest number of millionaires per capita in the United States, with a ratio of 6.75 percent. The oil and gas industry dominates the Alaskan economy, with more than 80% of the state's revenues derived from petroleum extraction. Alaska's main export product (excluding oil and natural gas) is seafood, primarily salmon, cod, Pollock and crab.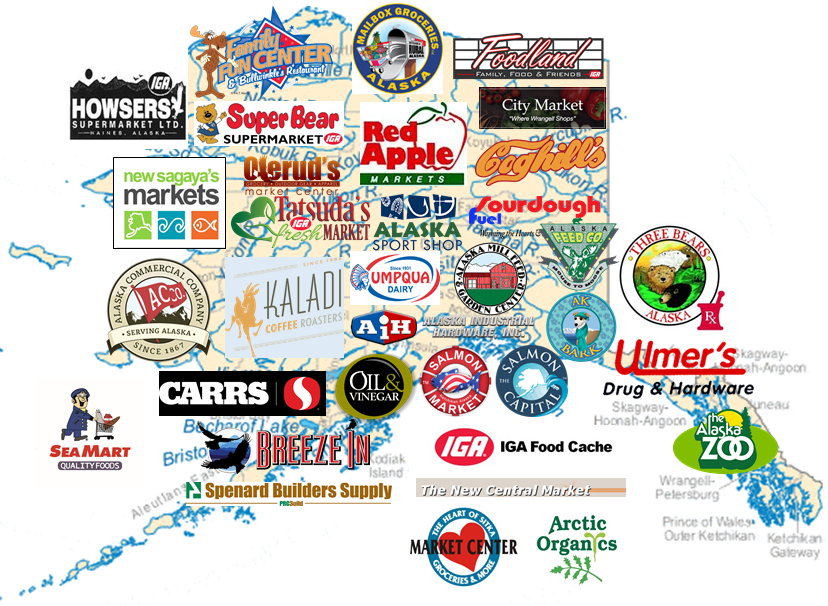 Employment is primarily in government and industries such as natural resource extraction, shipping, and transportation. Military bases are a significant component of the economy in the Fairbanks North Star, Anchorage and Kodiak Island boroughs, as well as Kodiak. Federal subsidies are also an important part of the economy, allowing the state to keep taxes low. Its industrial outputs are crude petroleum, natural gas, coal, gold, precious metals, zinc and other mining, seafood processing, timber and wood products. There is also a growing service and tourism sector. Tourists have contributed to the economy by supporting local lodging.
Source: Wikipedia
State Department of Agriculture
The Division of Agriculture provides marketing research and production resources to Alaska growers in an effort to enhance awareness and support of Alaska Grown products in the market place. The Division offers a number of grant programs for marketing and research assistance. The Division supports farmers markets throughout the State. The Division of Agriculture publishes the "Alaska Grown Source Book" online in response to numerous requests from the public and industry. This directory depends on the response of producers and does not claim to include all producers or sellers.
BuyAlaska.com is a program of UAA and Alaska Small Business Development Center. In partnership with Anchorage Economic Development Corporation, chambers of commerce, industry associations, and business assistance throughout Alaska, we envision a thriving and diverse economy –  energized by world-class businesses reflecting this remarkable land we call home.
If every Alaskan shifted just 10% of their Outside purchases back to Alaska, the Alaska economy would be bolstered by 1.1 billion dollars and 4,400 jobs! BuyAlaska.com invites Alaskans, visitors, and those who have always wanted to come to Alaska to use BuyAlaska.com to search for products and services before buying Outside!
www.BuyAlaska.com
The Made in Alaska program's mission is to promote products made, manufactured, or handcrafted in the state. Alaska's businesses manufacture high quality products for markets in Alaska domestically and internationally. Products range from small gift items to large industrial modules.
Product(s) which meet the program's 51 percent or more produced in Alaska criteria are eligible to use the Made in Alaska logo. Permits authorizing the use of the Made in Alaska logo serve both producers and consumers by certifying product authenticity. When purchasing products in Alaska, look for the mother bear and her cub logo signifying the product was manufactured in Alaska.
https://www.commerce.alaska.gov/web/ded/DEV/MadeInAlaska.aspx
Alaskagift.com was started in 1998 as a way for visitors that forgot to get a photo album from Alaska and wanted to get one like the one they saw while visiting, or to get another photo album because they filled up the first one. We have added lots of the most popular souvenir items so you can make sure to fill your gift list. We use USPS Priority mail only so that you get your orders in 2-3 days. We don't ship on weekends or evenings so that may add a few days but we will try to get it out right away and shipping charges are included in the price.
www.AlaskaGift.com